Allusky® LED lighting LINEAR series are created to satisfy the request of replacing the old fluorescent linear lamps, like 1X36W, 1X58W, 2X36W, 2X58W, but also 4X55 and metallic iodide 250W, guaranteeing reliability and efficiency also in heavy environments. We only offer what we consider the best solution without compromises in terms of quality. The real "heart" of this lamps family is to enclose lighting performances that are superior inside of a strong chassis, easy to manage and with a reduced weight. The installation speed is guaranteed by the different hooking type predisposition for wall, suspension or blindo.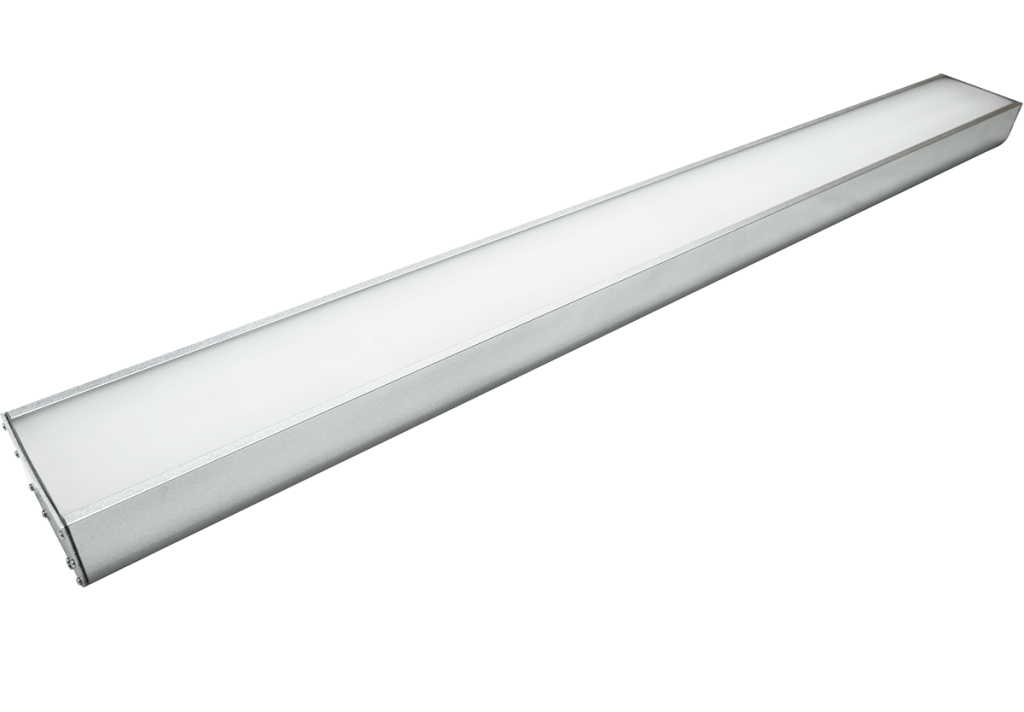 Luminous flux up to 12.800lm | Natural light | CRI>80
Optical recess in luminous high transmission polycarbonate
Power from 23 to 90W | Electrical efficiency 94% | Optical efficiency 89% (transparent.)
Power supply connection 120-277 Vac; 50-60Hz; Cos(ϕ):0,97 |Class I
Watertight system (IP65) sprinkler compatible | Resistance IK09
Wiring: Silver (other RAL) | Power painting | Anti-corrosion treatment
Dimensions: 1200x120x70 mm
Weight: 3.3 Kg | Incandescent wire heating element: 850°C
The importance of aluminum: The use of lamp bodies in aluminum alloy, other than guaranteeing resistance and durability for the appliance shell, it is fundamental for the correct functioning of the LED lighting sources, The LED chips to be able to operate during time, need to transfer the generated heat to the environment. The uses of lamps in plastic material does not permit a correct thermic dissipation, making the system more vulnerable to fault and malfunctions.
3 IN 1 SMART LIGHT REGULATION
Each Allusky Linear series are equipped with a system that permits the lighting regulation in according with the most common and complete DALI protocol (EN 60929 – CEI EN 62386), and through the new Push-Dim and Intelligent Presence Dimming functions. It is possible to easily choose different control systems without having to modify any parameter for each lamp. Significant external components saving thanks to a full optional lamp. Regulations and lamps control following the most complete and worldwide widespread protocol.
DIGITAL SYSTEM REGULATION (DALI)
Regulations and lamps control following the most complete and worldwide widespread protocol.
Lighting regulation with a simple button (turn-on, turn-off, regulation). It is not necessary to predict any system of management, dimmer or relay, as the total control resides inside the lamp. A unique button allows to command many lamps at the same time.
INTELLIGENT system PRESENCE DIMMING
If the lamp is connected to a presence sensor, in resting condition the light level can be kept at 10% and increase to 100% when a person or object is detected. This configuration is particularly useful for places where the people presence is occasional, but it is not possible to keep the lights off (for example hallways, security lights, etc.). This functionality can be combined with twilight sensors and external dimmers. A unique presence sensor can command more lamps at the same time.
| Lamp code | Power | LED flow | White col. | | Dimmer | Replac. |
| --- | --- | --- | --- | --- | --- | --- |
| 025_CL4KD110V | 23 W | 3.200 lm | 4.000 K or 3.000 K | Clear | 1‐10V | 1x36W / 1x58W |
| 025_OP4K1D10V | 23 W | 3.200 lm | 4.000 K or 3.000 K | Matt | 1‐10V | 1x36W / 1x58W |
| 050_CL4KDALI3 | 45 W | 6.400 lm | 4.000 K or 3.000 K | Clear | DALI 3in1 | 2x58W |
| 050_OP4KDALI3 | 45 W | 6.400 lm | 4.000 K or 3.000 K | Matt | DALI 3in1 | 2x58W |
| 100_CL4KDALI3 | 90 W | 12.800 lm | 4.000 K or 3.000 K | Clear | DALI 3in1 | 4x55W / IM 250W |
| 100_OP4KDALI3 | 90 W | 12.800 lm | 4.000 K or 3.000 K | Matt | DALI 3in1 | 4x55W / IM 250W |
The LED Allusky lighting systems are guaranteed by the certification ISO 9001 and find benefit in the quality process required by certification ISO 14001 to improve the company activities even in a matter of the environment protection. Other certifications like UNI EN 1090 and ISO 3834-4 and SOA, contribute to strengthen the quality proposed to our customers. The company is supplier of the USA government with NCAGE code AH974 and DUNS No.564748494