Allusky® LED lighting, HANGAR series. The power consumptions are reduced to achieve the maximum energy efficiency. The strength and watertight levels are unique features for the category. Suitable both for indoor and outdoor applications. The special chassis is realized in aluminum alloy with long-lasting anticorrosive treatment. Availability of different photometric projection. The special chassis is born from the synergic development between mechanics, optics and electronics. The research for the materials is directed to obtain a perfect photometric projection, guaranteeing also optimal thermal dissipation properties, suitable to the electronic components used.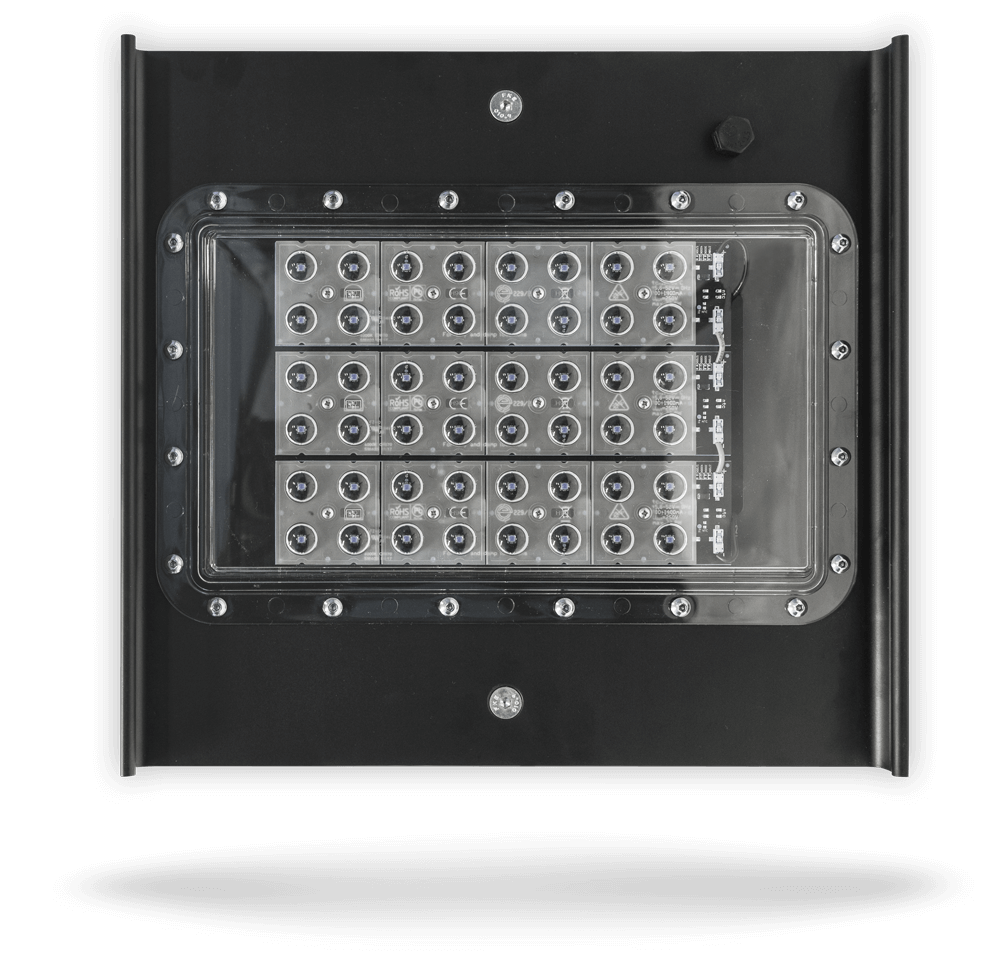 Lighting flux up to 20.200lm | Natural light | CRI up to 95
Optical recess in luminous high transmission polycarbonate
Electrical consumption from 70W up to 172W | Electrical efficiency > 95%
Electrical insulation 6kV/10kV / A. 90-305VAC; 50-60Hz; Cos(ϕ)>0.96 | Cl.1
Watertight IP65 & IP67 | mechanical resistance IK10 | anti-condensation valve
Color: black (other RAL) | Powder painting with anticorrosive treatment
Dimensions: 370x370x120 mm
Weight: 7 Kg | incandescent wire heating element: 850°C
The longevity of the LED system is guaranteed by the high selection of the materials and the components, the low piloting currents, the electric projection in entrance and the special dissipation profile with equivalent area bigger than 0.6m² (while containing the lamp dimensions in only 370x370mm with a weight of 7kg). To limit possible electromagnetic interferences coming from the environment and to guarantee an adequate electrical connection, the extrusion profile includes proper grooves (machined from a solid with a length > 35mm) suitable for the passage of cables coming from the external part of the lamp. Anti-condensation system with included valve.
Power supply Class I 2P+T 230V 50Hz with extended operativity guaranteed from 90V to 305V (Cos(φ)>0.95) with entry protection of 6kV phase-neutral and 10kV earth-line. Electrical protection in addition with auto-recovery system in case of overheating, over-tension and short-circuit protection.
Lighting source consist of a High-Power LED matrix with best performance power supply (LED current < 60% compared to the maximum permitted). Integrated control lighting intensity (dimmer).
To optimize mechanical resistance features, the optical recess is made of injected polycarbonate with specific support ribs, anchored to the dissipation profile thanks to opportune gasket and steel screws. The optional optics applied to the single LED chips, guarantee a controlled lighting projection, decreasing the perceived glare effect. Those optics are realized in polycarbonate with high transparency, UV resistance and suitable to high temperature purposes.
Compatible with different installation typologies (suspended, wall-mounted, head-mounted)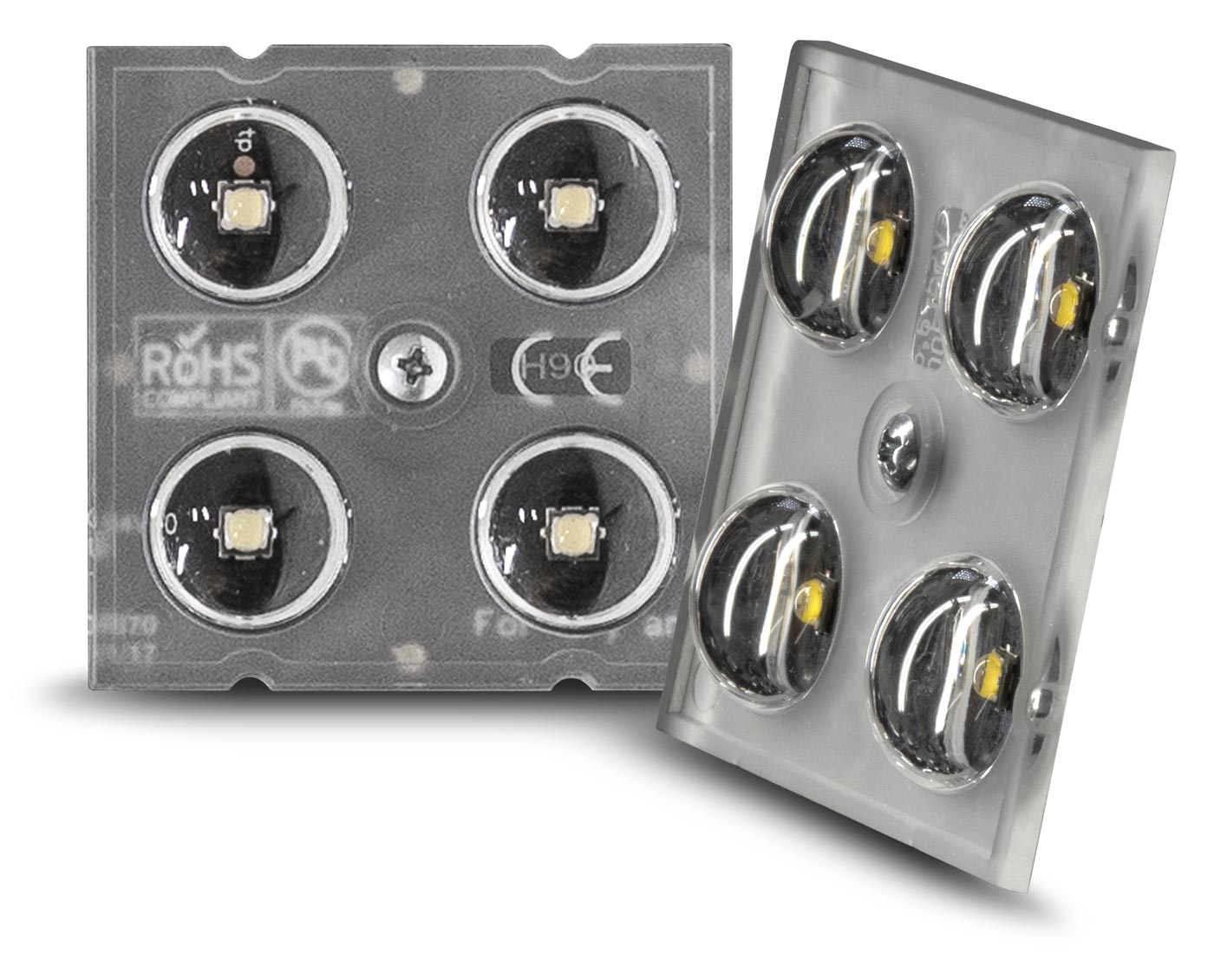 LINEA HANGAR installation
| Lamp code | Power | LED flow | White col. | Optics | Feature | Replac. |
| --- | --- | --- | --- | --- | --- | --- |
| HG‐070HE‐XXXX | 70 W | 10.000 lm | 4.000 K or 3.000 K | J60, J90, J120, JS1, JS2 | CR80 | 80W |
| HG‐70HE‐XXXX‐S&L | 70 W | 8.500 lm | 4.000 K or 3.000 K | J60, J90, J120, JS1, JS2 | Sun&Life | 80W |
| HG‐100HE‐XXXX | 104 W | 15.000 lm | 4.000 K or 3.000 K | J60, J90, J120, JS1, JS2 | CR80 | 120W |
| HG‐100HE‐XXXX‐S&L | 104 W | 12.500 lm | 4.000 K or 3.000 K | J60, J90, J120, JS1, JS2 | Sun&Life | 120W |
| HG‐120BX‐XXXX | 120 W | 13.500 lm | 4.000 K or 3.000 K | J60, J90, J120, JS1, JS2 | CR80 | 250W |
| HG‐120BX‐XXXX‐S&L | 120 W | 11.500 lm | 4.000 K or 3.000 K | J60, J90, J120, JS1, JS2 | Sun&Life | 250W |
| HG‐180BX‐XXXX | 172 W | 20.200 lm | 4.000 K or 3.000 K | J60, J90, J120, JS1, JS2 | CR80 | 400W |
| HG‐180BX‐XXXX‐S&L | 172 W | 17.500 lm | 4.000 K or 3.000 K | J60, J90, J120, JS1, JS2 | Sun&Life | 400W |
The LED Allusky lighting systems are guaranteed by the certification ISO 9001 and find benefit in the quality process required by certification ISO 14001 to improve the company activities even in a matter of the environment protection. Other certifications like UNI EN 1090 and ISO 3834-4 and SOA, contribute to strengthen the quality proposed to our customers. The company is supplier of the USA government with NCAGE code AH974 and DUNS No.564748494